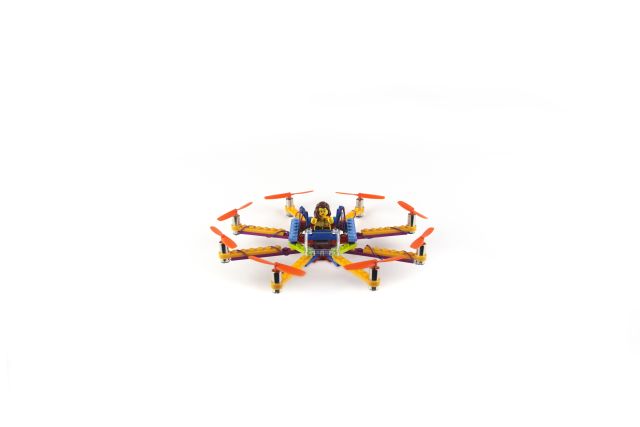 Another entry into the re-buildable LEGO drone segment, similar to the Kitables LEGO drone we previously covered, Flybrix is a complete DIY (do-it-yoruself) LEGO drone kit that comes with everything you need to launch your LEGO into flight, using the included parts or your own!
Flybrix kits come with all the components needed to make and fly re-buildable, crash-friendly quadcopters, hexacopters and octocopters from one kit and is designed for anyone who is interested in building and flying their own LEGO creations.
At the center of Flybrix is it's 'brain' – a powerful, open-source, Arduino compatible PCB that makes getting started easy for beginners but stays challenging for experts. The PCB includes a barometer, a magnetometer, several indicator LEDs, ADC converters, SD card slot and bluetooth. It's also possible to add Wi-Fi and GPS modules. Additionally, the source code is also all open-source and available for download at Github, so it's infinitely tweakable.
There's nothing like the thrill of seeing custom creations that you have built, take to the skies!
Since launching Flybrix has been featured on CNN, Techcrunch, NBC News and Gizmodo.
Currently there are two Flybrix kits available, ranging in price from $189 to $249 – order through our exclusive link and GET FREE SHIPPING!